THE REPLAY ZONE
May ruminations from your trusty Strat-O-Matic replay addict. Check out all four of my season replay-inspired baseball novels on
Amazon
.
Milwaukee Brews up a Cool Strat League
How many current Strat leagues can boast that they hold their annual draft in the conference room of an MLB ballpark? I would bet not too many, but George Henion of the Metro Milwaukee Baseball Association posted a photo of their glorious yearly event a few months back inside Miller Park, and I was eager to learn more about their operation. So I did…
The 20-team MMBA is now in its 19th season, with a dozen "coaches" based in Milwaukee and eight more up the road in Madison. The clubs are grouped into four 5-team divisions, each division with a very arresting name (Death, War, Pestilence and Famine). The league's 54-game schedule allows for a deep dive into face-to-face play, in the form of 18 weekly meetups at J&B's Blue Ribbon Bar and Grill in the Story Hill section of Milwaukee, just blocks from Miller Park.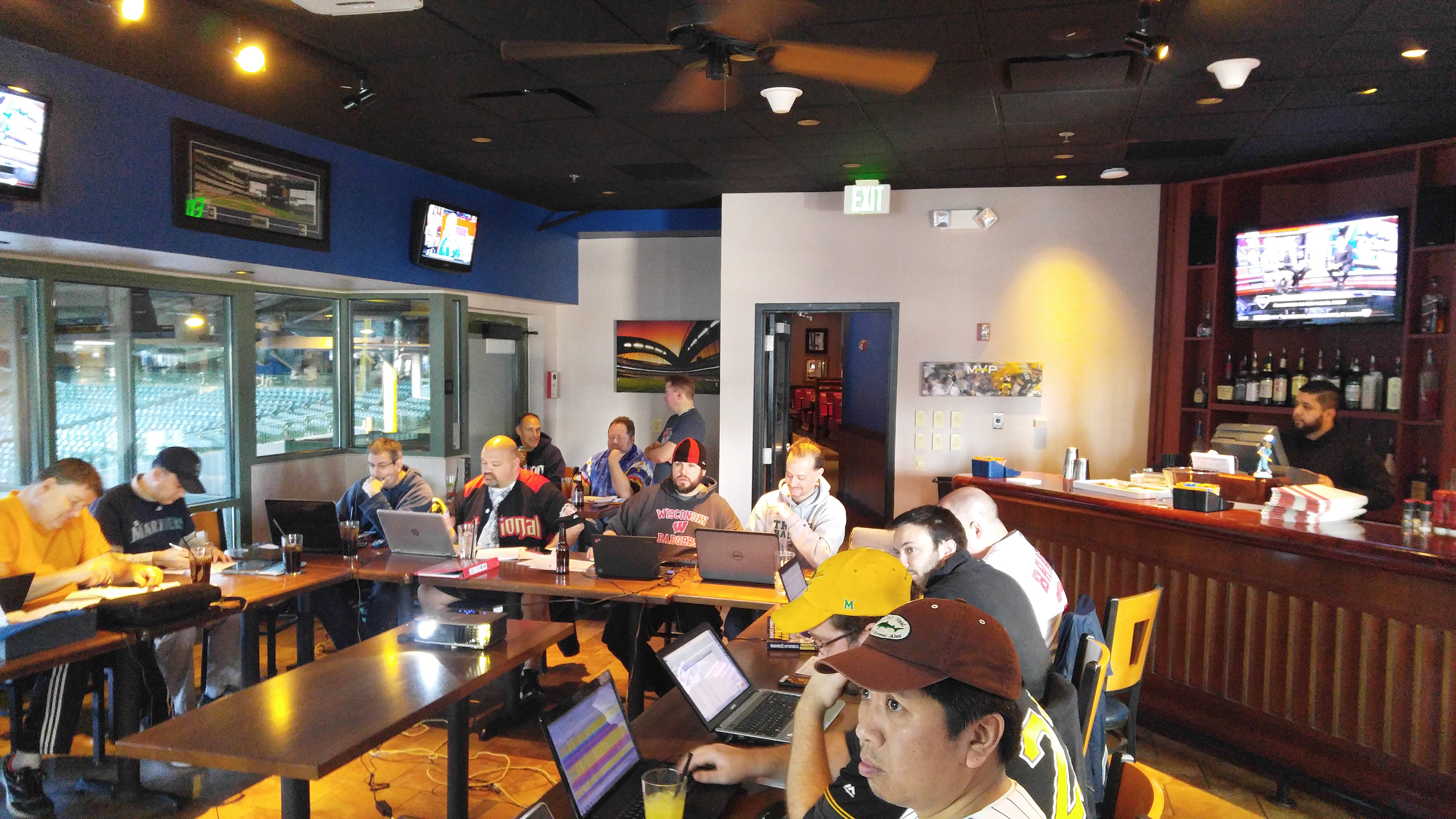 According to league founder Geoff Cooper, the managers fall into the 29-52-years old range, and tend to be "your accountant types, always running the numbers." The league is very solid and taken very seriously, as evidenced by the 11-page Constitution PDF I was e-mailed, which includes detailed descriptions of the duties of the league Commissioner, Founder Emeritus, Website Administrator, Record Keeper, and Auditor. There is a paragraph on something called "Cold-Storage Team Management" and one on the timing of games, because you must play your weekly three-game series "within a 3.5 hour timeframe."
The league also adheres to a set annual schedule, where a three-round Amateur Draft is held during the first game of the real World Series (with uncarded players being drafted from the real-life June amateur draft), the regular draft in February (where 5 to 15 more players are selected), with the entire season of games designed to be finished by mid-June so the managers can enjoy Summerfest, a week and a half-long music extravaganza held along the lakefront.
For season gameplay, 60-man roster (with a "salary cap", naturally) are cut down to 27. The MMBA doesn't use original team names, with everyone representing a major league franchise, and George Henion's Cubs are just a game under .500 in the Famine Division so far, though he does have Ryan Braun (.337) and Starling Marte (.333) in the top ten in batting. Currently with the best record in the league are Ben Greenberg's Twins, also in the Famine Division, at 19-8, who seem to be doing it with great team pitching. Daniel Murphy of Genaro Armas' White Sox is off to the hottest hitting start, batting .402 with a lofty .434 on base percentage. The MMBA even has a great, password-protected league site that allows coaches to enter their own team stats.
George is also an avid Strat football league player, as are some of the other league members, and every August at the Gencon Convention in Indianapolis, he runs a football tourney that saw last year's climactic action played on the field at Lucas Oil Stadium! George's Strat endeavors are clearly a year-long affair when he isn't running
the Faculty Support Office for the School of Public Health at UW Milwaukee
, and the MMBA is a more-than-worthy outfit that appears will be rolling in the Midwest for quite some time.